The CCraft Tree has expertise in customized wholesale basket boxes manufacturing services. The company mainly provides services in Indian wedding gifts. As we all know, Indian weddings can be glittery and full of glitz. So weddings are the best events for Box Gifting and charms. The CCraft Tree provides the perfect packaging for the gifts you want to present. The designs for gift baskets are absolutely amazing. 
They have their headquarters in Agra, India. Usually, the price for their products ranges from Rs 100 to Rs 3000 per piece. Clients can get a wide variety of options to choose from. The company puts in a lot of effort to be creative and provide new gift boxes with every production. In most cases their clients are rendered satisfied. So if you are in need of some Colorful Gift Boxes Wholesaler, or Box Gifting ideas you can contact them without hesitancy. 
Read More:- Actual Reasons Behind the Popularity of Custom Gift Boxes
For several years, the company has been providing promising services for their clients. All the gift baskets that clients order are very dependable. It is one of the most advanced and premium companies that provide services with respect to gift packaging.
What does CCraft Tree do?
The CCraft Tree team aims to promote Art ,Craft & Handicraft by empowering Women & Artisans by promoting Indian handicraft heritage through the use of Indian Craftwork like Zari Zardozi, etc on GIFT boxes and making these Gift Boxes part of everyday life. In addition, the CCraft Tree Team is committed to create awareness about sustainable handicrafts.
The CCraft Tree endeavours to source Handcrafted Gift boxes from every state of India to have the largest Hand Made Gift Boxes reservoir. Furthermore, we intend to export our innovative Made In India Hand Gift Boxes worldwide.
The CCraft Tree is based in Agra ,home to three UNESCO Heritage Sites ,among them the most remarkable ,astounding and also one of the seven wonders of the world is Taj Mahal .Taj Mahal is also considered one of the most memorable and incredible GIFT of love.
Read More:- 10 Reasons Why Gift Baskets Make The Perfect Corporate Gifts
Gift or 'Tohfa ' or ' Uphar ' in Hindi is integral to Indian Culture . Gift giving is a reflection of feelings, gratitude, good wishes and strengthen bonds with friends , relations and business associates
The CCraft Tree, a Women Owned Enterprise engaged in boxing good wishes in their Unique ,Ethnic , Elegant GIFT boxes. The CCraft Tree gift boxes are curated to recognize every occasion like to celebrate birthdays , Anniversaries, Marriages or for someone special or to say thanks or for professional or personal success or to launch a new product range. The CCraft Tree aesthetically designed gift boxes make every moment memorable.
The CCraft Tree team sources boxes from all across India of different materials and customizes them to meet clients' requirements in India and Abroad. The CCraft Tree GiFT Boxes are available online, in stores and in exhibitions.
Read More:- The Main Benefits of Having a Wooden Tray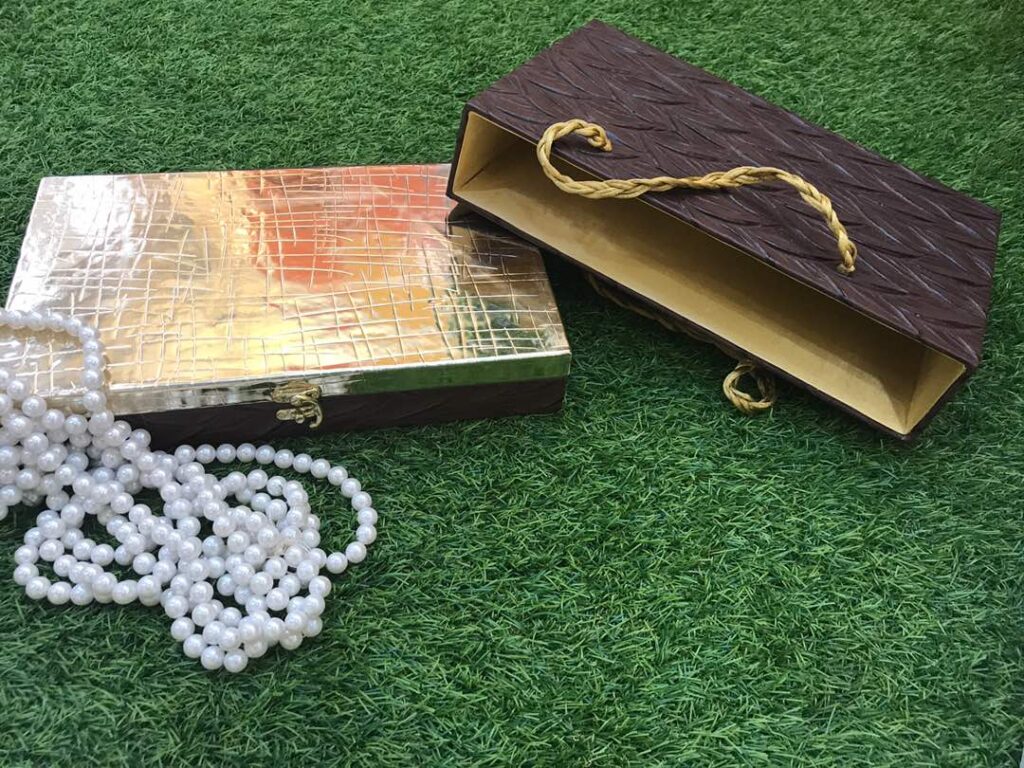 What does the team at CCraft Tree work towards?
The team at CCraft responsible for design and development is extremely professional and fluent in their work. They are in charge of finalizing the designs of the gift boxes. The kind of materials that suit the products best are designed by the team accordingly. The company has a well equipped workshop that creates magic. They have all the latest machinery and equipment. Production of gift boxes is more than 50,000 for both sales and export. Every product goes through rigorous quality testing. The company also makes arrangements regarding packaging their products. Hence, if customers want to have packaging and gift boxes to be extraordinary, CCraft Tree is your destination. You can be rest assured that their services won't disappoint.
Read More:- Your Guide For Small Business Gifting
What services do CCraft offer?
The CCraft Tree provides wholesale gift box services. Their services are quite unique and match any festivity or celebration. 
Clients can get services for customized gift boxes, handcrafted gift boxes, customized photo frames, gift baskets, trays, tissue box casings, jars, trousseau packing, corporate gifts, painted gift items, announcements hampers for babies, coin boxes, envelopes, jewelry cases and so on. All their services are very aesthetically appealing. 
Read More:- Here Are Five Reasons Why You Must Consider Customized Framing
To Wrap Up
The CCraft Tree company has been in the business for about six years. Customers have had a satisfactory experience with respect to the products they receive. They provide reasonable prices for each product. In addition to the product cost they implement an additional charge for shipping. Also they provide creative gift baskets that would be aesthetically appealing. Starting from packaging to custom design you can sign up for all the requirements for the product. All the products they deliver are very valuable to the clients.
The CCraft Tree offers a wide range of products that assists in modifying them as per the clients' requirements. Some of the appreciated and acclaimed products manufactured by The CCraft Tree company are jewelry, plants, bar-ware, customized accessories, etc. If you need any gift baskets, you know where you find your best shot!